There's a funny thing about spring–it gets here whether you want it or not. This year I think we all want it to get here–quickly, beautifully and as fast as we can get rid of the snow coming down as I write.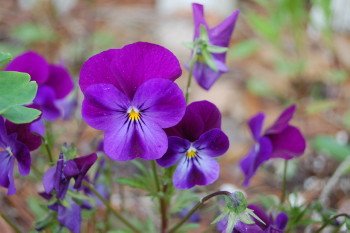 There's also a funny thing about spring in the mountains. Just as the non-native crocus, daffodils and then the tulips have their sequence of blooms, so do the roadside wildRoadside flowers in the mountains compete with pansies planted at Prospect Hill Tn flowers. I never cease to enjoy the changing "garden" where the woods comes close to the highway, especially Hwy. 421 between Boone NC and Mountain City, TN. This road is the lead up to the Striped Snake, a glorious motorcycling road. It's a fairly straight (for the mountains) utility road which gets me quickly to Boone or elsewhere. It's home to many and a location for a few businesses. However, it is in between those structures that the forest remains. The wildflowers pop out on the edges and compete with the munching ground hogs for sunshine and sustenance.

Don't get me started on how wrong that groundhog was at predicting the start of spring this year. The ones who live in the natural area at Prospect Hill have not been out of their holes yet!

People also ask "When is the best time, or date, to see great scenery?" "All spring" is my answer–now through May." Every day, every week is different. Purple flowers, little yellow ones. Wild dogwoods, native cherry trees, a few planted azaleas and then more wildflowers, most nameless and all glorious.

Now my confession: to rush spring I bought some pansies the other day. They have spent a week cooling their heels inside the back door. A pansy photo is what I can post for you I wish I had a great one of those roadside posies. They aren't very flashy and are very hard to catch in a pose. I guess you'll have to see them for yourself.

There's a little good news on the horizon: Starting Thursday we're in for 55-60 degree weather, sunshine and that means spring flowers!!! Easter is going to be a lovely day this year.