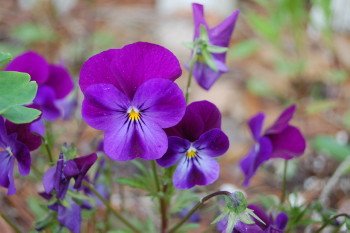 Pansies are such a simple flower. They speak to me of the simplicity of love (and marriage). Pansies and weddings go together well. Here's how I'd use them.
This is a new version of this post.
Buy pre-planted larger pots, wrap in plastic wrap then in gift wrap, florist paper, burlap, brown paper wrap or cloth. Tie with an appropriate ribbon or piece of raffia. You can do this with the small pots, too.
IF you have a favorite bowl, jar, small basket or other container, drop the pot into a waterproof bag (or even a Ziplock) and then into the container. Push the edges of this waterproofing material down to hide it. Dress with sheet moss, Spanish moss or common mulch.
http://www.finegardening.com/plants/articles/pansies-make-perfect-pots.aspx?utm_source=email&utm_medium=eletter&utm_content=20130401-pansies&utm_campaign=fine-gardening-eletter